Cette Silver-Ghost Tourer construite par le carrossier J.A. Lawton de Londres est connue pour avoir été la première Rolls-Royce ayant arboré la célèbre mascotte de radiateur : "The Spirit of Ecstasy" (ou Flying Lady) sculptée par Charles Sykes. Chassis n° 1544 [45S].

Dernières images N/B, on voit le chassis n° 1497, également construit par Lawton et vendu à J. Crewdsen, de Liverpool... Cette voiture sera transformée en Ambulance (voir par ailleurs...)

Les deux dernières images montrant à nouveau le chassis n° 1544 (avant qu'il ne soit re-habillé par Wilkinson...) (B-4150) [45]. Cette voiture, que l'on voit dans deux couleurs différentes (la blanche suivie de la noire) a été livrée à A. Harrison, de Frodsham. Elle sera restaurée par Jack Barclay, sous la supervision de H. Fergusson Wood.


Une question, un rajout, une précision... un souci ? Contactez-moi au contact@automobileweb.net
cliquez sur les vignettes pour agrandir les photos...


Ces informations et photos proviennent de recherches sur Internet. Les résultats sont, pour la plupart, vérifiés dans les nombreux ouvrages de ma bibliothèque (voir page bibliographie...). Les affirmations discutables sont suivies d'un (?)
>> Vous pouvez accéder à ces pages (si elles existent encore...) en cliquant sur les liens qui apparaissent ci-contre, en haut à droite.
Ces liens sont spécifiques à chaque page : partageons la passion !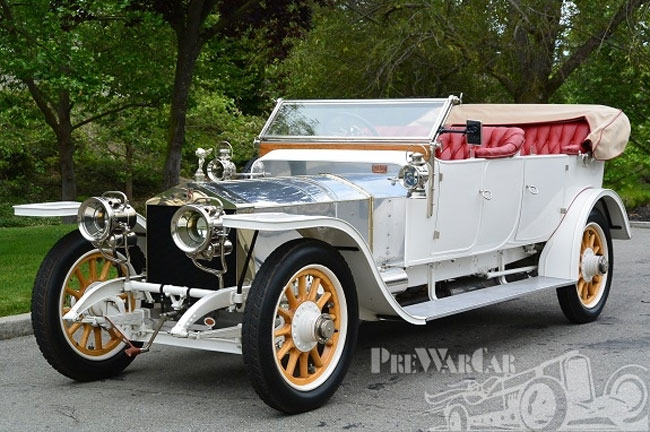 Image 40 of 55
< Previous | Index | Next >
Si vous voyez apparaitre une pub... n'hésitez pas à cliquer... ça ne vous coûte rien, et ça me paye l'hébergement ! merci.
Ce Site utilise des cookies, en continuant à naviguer, vous les acceptez