Très belle et luxueuse Silver-Ghost Limousine réalisée par Hooper, visible au Musée de Sinsheim en Allemagne... qui nous apprend que Rolls-Royce est une marque... Suisse !
Chassis n° 135EM. (1924-R - XT-3675 - ..809-HO ?) [S133]. On la voit aussi avec des enjoliveurs de roues...

Les deux autres modèles présentés, appartienent au richissime Vijay Mallya, ex-propriétaire de l'écurie de Formule 1 Force-India... (Il aura des démélés avec la justice et les impôts de son pays)
La première (la grise) est une rare Limousine à l'arrière traité en boat-tail et ayant appartenu au Maharajah de Mayurbhanj. Chassis n° 122EM. (ORM-437)

Les deux photos suivantes (photos N/B), une Limousine, chassis n° 55EM. (MFA-3474) ayant appartenu au Maharaja de Mayurbhanj (voir par ailleurs). C'est sa deuxième carrosserie.

Et pour finir, le chassis n° 3TM (WBB-674) (la grise) à la décoration extérieure en bois et finition intérieure "royale"... Cette voiture a appartenu jusqu'en 1943 à Lord Linlithgow, vice-roi de l'Inde, puis à Lady Ezra et enfin à Ray Howard de 1968 à 1972, qui était pilote automobile à Calcutta. Ce dernier a essayé d'emmener la voiture à l'étranger avec lui mais n'a pas réussi... et elle a été offerte au Révérend Mark Buntain, de l'Assembly of God's Church and school (Assemblée de l'Église et de l'Ecole de Dieu)... En 1989, elle est achetée conjointement par M. Shashi Kanoria et M. Vinay Agarwal, puis est restée avec eux pendant quelques années et a ensuite été vendue à un collectionneur d'Hyderabad.
Les photos suivantes (issues d'une vidéo tournée lors du Rallye des Hommes d'Etat à calcutta) montrent la voiture dans une autre couleur, en 1968...

On voit enfin (photo N/B), un dernier exemplaire (probablement Hooper), n° chassis inconnu.


Une question, un rajout, une précision... un souci ? Contactez-moi au contact@automobileweb.net
cliquez sur les vignettes pour agrandir les photos...


Ces informations et photos proviennent de recherches sur Internet. Les résultats sont, pour la plupart, vérifiés dans les nombreux ouvrages de ma bibliothèque (voir page bibliographie...). Les affirmations discutables sont suivies d'un (?)
>> Vous pouvez accéder à ces pages (si elles existent encore...) en cliquant sur les liens qui apparaissent ci-contre, en haut à droite.
Ces liens sont spécifiques à chaque page : partageons la passion !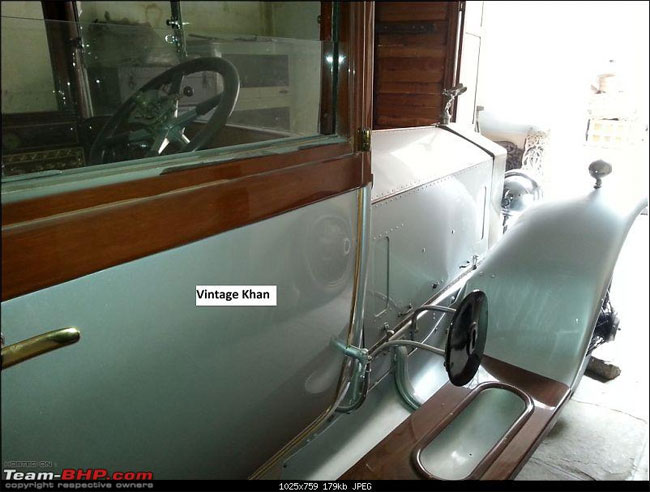 Image 38 of 45
< Previous | Index | Next >
Si vous voyez apparaitre une pub... n'hésitez pas à cliquer... ça ne vous coûte rien, et ça me paye l'hébergement ! merci.
Ce Site utilise des cookies, en continuant à naviguer, vous les acceptez